| | |
| --- | --- |
| | |
---
Congresswoman: you want an earmark? Put a video about it online!
Posted: 30 Mar 2010 10:50 PM PDT
Rep. Chellie Pingree (D-ME) has a new process for reviewing requests for earmarks (money apportioned to local projects): she requires anyone requesting an earmark to make a video about it and put it online where everyone can see it.
As your Member of Congress, I am committed to doing everything I can to support the economic and community development important to the people of the First District---that means fighting for sound federal investments in our community that can grow our economy and create jobs.

This year, I am unveiling a new, transparent and open approach to how I receive, review and submit these federal funding requests: every requesting organization has been asked to make a short presentation, which has been recorded and posted online. This is in addition to extensive written materials they submit describing their funding request and how it will benefit Maine's first district. All of this information is particularly geared towards jobs retained or created and examining the long-term economic benefit of federal dollars. The videos and project descriptions will be posted on my website and the public is invited to comment on the projects.

I would love to hear what you think about these projects or this process.
My 2011 Appropriations Requests
(
Thanks, Jeff from Tacoma!
)
Sita Sings the Blues comes to Netflix
Posted: 30 Mar 2010 10:45 PM PDT
After years of "copyright hell" fighting to clear the rights to the music in the stellar animated feature
Sita Sings the Blues
, the movie is
finally available through NetFlix
. Congrats, Nina Paley! (
Thanks, Xeni!
)
GE's bizarrely named "Tramatic" appliances of yesteryear
Posted: 31 Mar 2010 12:04 AM PDT
For some reason, GE once produced a line of housewares called "Tramatic" and advertised them with the slogan, "Tramatize your home!" No word on whether the homes ever got over the trama. Still and all, I like the lines and colors of these appliances!
Tramatize your home! (via Vintage Ads)
Snow White/Magritte Threadless tee design
Posted: 30 Mar 2010 10:36 PM PDT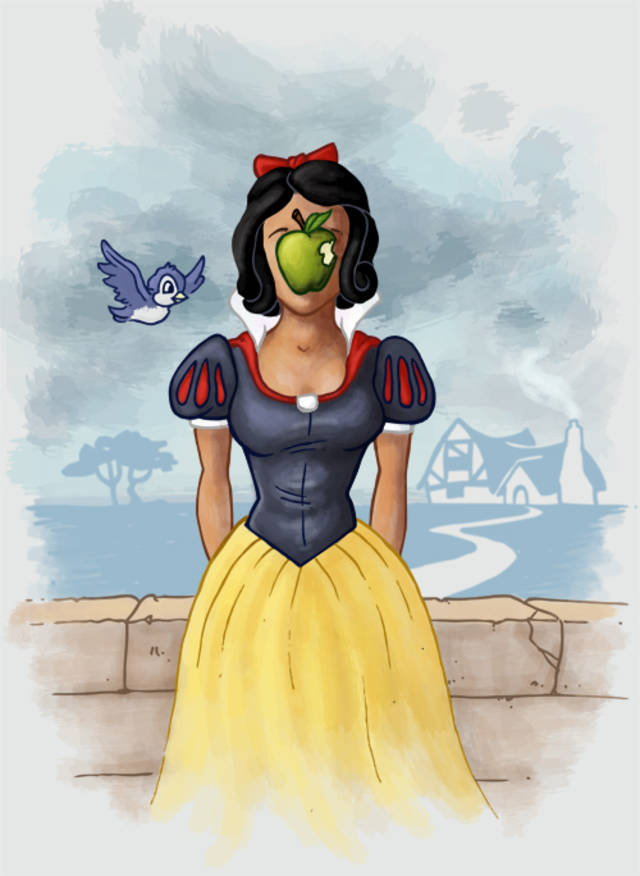 Brian Cook put together this lovely Snow White/Magritte mashup tee for Threadless: "I love art history and I love classic cartoons so I was really excited when this little ditty popped into my head."
Recaptioning New Yorker cartoons with "Christ, what an asshole!"
Posted: 30 Mar 2010 10:30 PM PDT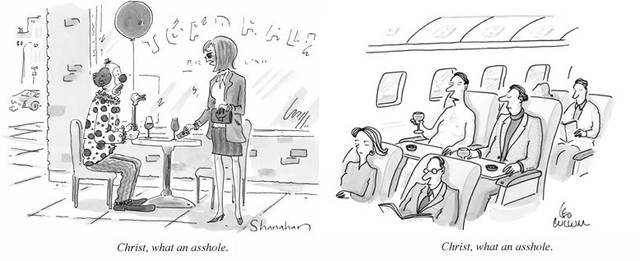 Charles Lavoie presents compelling evidence that practically every New Yorker cartoon can be captioned with "Christ, what an asshole!" without reducing its comedy value.
How "Christ, What an Asshole!" is the Answer to the New Yorker Magazine Caption Contest (via Making Light)
Free ebooks: motivations, metrics and economics
Posted: 30 Mar 2010 10:22 PM PDT
John Hilton III and David Wiley from Brigham Young University conducted interviews with authors who give away the electronic editions of their printed books and
produced a short, fascinating look
at the motivations and satisfactions of free online distribution. The paper, "Free: Why Authors are Giving Books Away on the Internet" is
a free PDF
(natch).
The authors' responses are (in my opinion) extremely interesting. Major motivations for making work freely available include "to increase visibility," "to increase sales," and "it's a moral obligation." All of the authors were glad that they had made they work available for free, and most reported that they thought it had increased the reach of their work. Nobody perceived that sales had decreased as a result.
Hilton also just
published his dissertation
,
―Freely Ye Have Received, Freely Give (Matthew 10:8): How Giving Away Religious Digital Books Influences the Print Sales of Those Books
, which tracked sales of backlist religious titles before and after their ebook release.
During the ten weeks of the study the books were downloaded 102,556 times. Collectively, the books sold 68 more copies in the ten weeks they were online for free versus the ten previous weeks. This was an increase in sales of 26%. Over the same period of time in 2008, sales of these same books decreased by 38%. Furthermore, a study of comparison titles that were not put online for free found that sales of comparison books decreased both in 2008 and 2009...
(
Thanks, John!
)
Tron remixed trailer and titles
Posted: 30 Mar 2010 03:51 PM PDT
With Tron: Legacy due out later this year (MCP, help us), a revival of the classic Tron from 1982 is underway, with a few truefans translating their passion into fun videos. At top, Hexagonall's "Tron vs. Saul Bass" title sequence. Below that, a new Tron (1982) trailer. Its creator, DrewboiX, writes, "Wanted to make a exciting trailer with a modern feel as oppose to its original marketing in the 80s."
(via Underwire)
Profile of a 19-year-old chess champion: chess and madness
Posted: 30 Mar 2010 12:14 PM PDT
"Chess should not become an obsession. Otherwise there's a danger that you will slide off into a parallel world, that you lose your sense of reality, get lost in the infinite cosmos of the game. You become crazy."—
19-year-old chess champion Magnus Carlsen
.
(thanks, Susannah)
Rushkoff: Program or be programmed!
Posted: 30 Mar 2010 01:25 PM PDT
Here's a classic
Rushkoff
riff from the recent SXSW 2010. Program or be programmed!
Scale model of a war-torn WWII town built and photographed by brain-damaged beating victim
Posted: 30 Mar 2010 01:17 PM PDT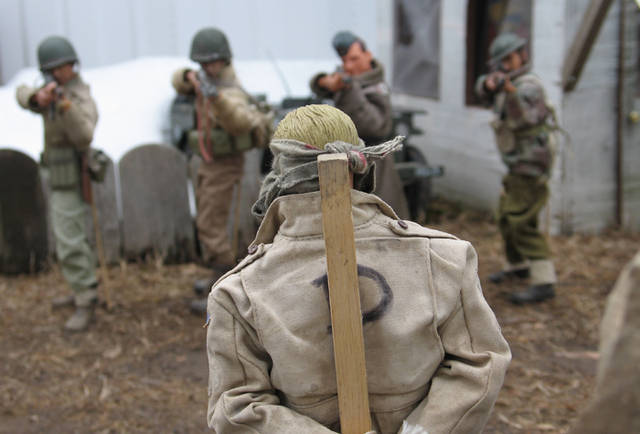 Mark Hogancamp was beaten into a "brain-damaging coma" by five men outside a bar. After he awoke, he devoted himself to building "Marwencol," a 1/6th scale WWII town, in his back yard: "Mark populated the town he dubbed 'Marwencol' with dolls representing his friends and family and created life-like photographs detailing the town's many relationships and dramas. Playing in the town and photographing the action helped Mark to recover his hand-eye coordination and deal with the psychic wounds from the attack. Through his homemade therapy, Mark was able to begin the long journey back into the 'real world', both physically and emotionally - something he continues to struggle with today."
The level of detail is amazing, and heart-wrenching, and sometimes just plain weird and disturbing. But it's also wonderful -- both as a display of sheer craft and dedication, and as a monument to a difficult and painful recovery.
Marwencol (Thanks, Lookforthewoman)
NZ MPs reject software patents
Posted: 30 Mar 2010 01:06 PM PDT
Colin sez, "In New Zealand, Select Committees (cross-party groups of MPs) are part of the law-making process. The committee considering revisions to patent law has
come out against software patents
, saying that software patents can stifle innovation and competition, and can be granted for trivial or existing techniques."
See you in Seattle this weekend at Norwescon!
Posted: 30 Mar 2010 01:02 PM PDT
I'm headed to Seattle this weekend to be one of the guests of honor at
Norwescon
, along with (among others), Vernor Vinge. If you're in Seattle and you can make it, I'd love to say hi! Here's my programming schedule for the event:
Thursday, 7:00 p.m., Opening Ceremonies

William Sadorus (M), Dr. John G. Cramer, Cory Doctorow, David Hartwell, John Jude Palencar, Vernor Vinge


Thursday, 8:00- 10:00 p.m., Artist/Pro Guest Reception

Dr. John G. Cramer, Cory Doctorow, David Hartwell, John Jude Palencar, Vernor Vinge


Friday, 11:00 a.m., Computer Misconceptions in Science Fiction Literature and Film

Ted Butler (M), Cory Doctorow, Brian David Johnson, David Shoemaker


Friday, 2:00 p.m., Intellectual Property and Creative Commons

Eileen Gunn (M), Ben Dobyns, Cory Doctorow, Elton Elliott


Friday, 4:00 - 5:00 p.m., Autograph Session #1


Friday, 5:00 - 7:00 p.m., Lifetime Dinner

Dr. John G. Cramer, Cory Doctorow, David Hartwell, John Jude Palencar, Vernor Vinge


Friday, 7:00 - 8:30 p.m., PK Dick Awards

William Sadorus (M), Carlos Cortes, Dr. John G. Cramer, Cory Doctorow, Daryl Gregory, David Hartwell, Ian McDonald, John Jude Palencar, Vernor Vinge


Saturday, 10:00 a.m., Writing For Young Adults

Steven Barnes (M), Alma Alexander, Cory Doctorow, Lisa Mantchev


Saturday, 1:30 p.m., Autograph Session #2


Saturday, 4:00 - 5:30 p.m., Keysigning Reception


Saturday, 6:00 p.m., Surveillance in the 21st Century - is it Good or Bad?

Cat Rambo (M), Cory Doctorow, Eileen Gunn, Ian McDonald


Sunday, Noon, Law and the Virtual World

Cory Doctorow, Andrea Howe, Burt Webb


Sunday, 5:00 p.m., Closing Ceremonies

William Sadorus (M), Dr. John G. Cramer, Cory Doctorow, David Hartwell, Tracy Knoedler, John Jude Palencar, Vernor Vinge
Posted: 30 Mar 2010 12:41 PM PDT
Artist Jeremy Dean converted a Hummer H2 into a horse-drawn carriage "to show just how screwed and unsustainable the auto industry has become." Glen E. Friedman has more, including video.


EFF, AT&T and Google all on the same side of this privacy fight
Posted: 30 Mar 2010 12:43 PM PDT
Here's a turn-up for the books:
AT&T, Google, the Electronic Frontier Foundation and many others have formed a pro-privacy coalition
that's asked Congress for updates to wiretapping laws to close loopholes that make it easy to listen in on "Web 2.0" without a warrant: "the current electronic privacy laws are woefully outdated and must be updated to provide clear privacy protections that reflect the always-on, location-enabled, Web 2.0 world of the 21st century." (EFF is suing AT&T over its complicity in the Bush-era illegal NSA wiretapping, and has filed an objection to Google's Book Search settlement on privacy grounds -- it says something that all three organizations agree on the need for this update to privacy law)
LibDems won't support Digital Economy Bill at all
Posted: 30 Mar 2010 12:38 PM PDT
W00t! After pressure from party members, MPs and prospective parliamentary candidates, the UK Liberal Democrats have unequivocally withdrawn support for the Digital Rights Bill, a sweeping, 24,000+ word bill that the Labour government are trying to push through Parliament with only a few hours' debate. Previously, the LibDems had supported the idea of the bill going into "wash up" (a streamlined procedure for passing laws without detailed scrutiny or public debate), provided that controversial proposals (such as kicking families off the net if they were accused of infringement) would be referred to another process later on. After public outcry from within the party, the front-bench changed its mind, and the party whip has
said
, "I have told the Govt we won't support the Digital Economy Bill as drafted. There is not enough time for MPs to examine it in detail." Well done, LibDems!
Lib Dems to fight Digital Economy Bill over 'wash-up'
Psychiatrist famed for electroshock as "cure" for homosexuality busted on sex abuse charges
Posted: 30 Mar 2010 12:21 PM PDT
The Canadian psychiatrist nicknamed "Dr. Shock" for his penchant for electroshock treatment as a "cure" for homosexuality among military recruits
has been charged with sexually assaulting a male patient
. Not a shock.
(via Newser)
Leonard Baskin: Lepidoptera Fantastica
Posted: 30 Mar 2010 03:45 PM PDT
Ian J. Kahn of antiquarian booksellers Lux Mentis got a hold of some extremely rare books by Leonard Baskin, who is best known as a sculptor. Link to a large-size scan of the image in this post, and here's a larger gallery. The collection will be on display at an upcoming antiquarian book fair in NYC, April 9-11.


A Day in Paris: short film by Benoit Millot
Posted: 30 Mar 2010 11:37 AM PDT
Filmmaker Benoît Millot brought this lovely, dreamy live-action + 3D animated short film to my attention, and I'm so glad he did. Sort of a trippy, shoegazey Up in the Air meets Transformers. Been out a couple months, but new to me. Shot on a Canon 7D Mark I, and it shows. Music: Electric President "I'm Not The Lonely Son." (Amazon).
A Day in PARIS (Vimeo)


Serving sizes in Last Supper paintings have supersized over the ages
Posted: 30 Mar 2010 10:56 AM PDT
The
size of food portions depicted in "Last Supper" paintings over the years has steadily grown
, like our waistlines.
(via William Gibson)
Cops' repeated tasering of pregnant woman is okay, says court
Posted: 30 Mar 2010 11:02 AM PDT
A federal appeals court in Seattle ruled this week that
three policemen in Seattle did not use excessive force when they tasered Malaika Brooks, a "visibly pregnant woman,"
multiple times after she refused to sign a speeding ticket. Refusing to sign a ticket is something south of a non-arrestable misdemeanor in the state.
Child victim of human trafficking in India consoles distraught Lindsay Lohan
Posted: 30 Mar 2010 01:09 PM PDT
Celebrity advocacy fail: an Indian girl, head shaved, rescued from child trafficking and from the street, is explaining to Lindsay Lohan while BBC documentary cameras roll that her mom and dad used to beat her unless she went out each day to earn money...
[B]ut it's hard to concentrate on what she's saying because what's happening behind her is so distracting. Lohan is rubbing her already-red eyes, spreading mascara around the place, twitching her eyebrows.

"Um. Um. Oh my God," the film star says, her lips wobbling uncontrollably. A disembodied hand pops into the screen to pass her a tissue. "Um. How did she feel? Um. How did they treat her?" she asks, beginning to sob.

The small girl turns to look at her in bemusement. The translator gives an embarrassed laugh and says to the girl: "She's crying for you. Why don't you comfort her?" So we watch as the puzzled child dutifully strokes Lohan's long mane of golden hair. "Oh my God! Oh my God!" Lohan says, with a husky gasp. "Sorry, I'm having a moment." Mercifully, the camera is then switched off.
Lindsay Lohan's misplaced tears
(Guardian, via Aid Watch; thumbnail from photo by BBC/Blakeway Productions. )
A serious look at physics in "Hot Tub Time Machine"
Posted: 30 Mar 2010 11:21 AM PDT
Over at io9, an physicist takes a serious look at
the physics behind Hot Tub Time Machine.
"Let the harrumphing begin!" Includes spoilers. Science aside, I saw the movie over the opening weekend, and laughed a lot. Recommended. Cusack will soon join us here as guestblogger, BTW.
(thanks, Wilson Rothman)
Bulgarian political scandal over Facebook game Farmville
Posted: 30 Mar 2010 10:54 AM PDT
"A scandal has erupted in the City Council of Bulgaria's Plovdiv as several councilors have been caught milking virtual cows on the Facebook application Farmville. The councilors were first detected playing Farmville two weeks ago during the debates for Plovdiv's 2010 budget."
Busted
!
(via Julian Dibbell)
Posted: 30 Mar 2010 12:07 PM PDT
Posted: 30 Mar 2010 10:48 AM PDT
Look at all the ways you can
use duct tape
!
Erykah Badu's new album is out today (release party in LA tonight)
Posted: 30 Mar 2010 10:40 AM PDT
New Amerykah Part II: Return of the Ankh
, Erykah Badu's new album, is out today. It's fantastic. Her record release party is in LA tonight (tickets:
El Rey
or
Ticketmaster
), and I'll be there. Excited about catching
DJ Nobody
's set, too.
Look at that lovely poster, after the jump
. Who says flyer art is dead?
(thanks, Richard Metzger + Tara McGinley)
Posted: 30 Mar 2010 02:26 PM PDT
They say advertising's an ephemeral medium, but I'm not so sure. I collect
old library-bound volumes of Life magazine
, and given proper care (and kept away from the razor-clutching hands of people who want to carve them up and sell them piecemeal on eBay) those magazines have some serious shelf life, and so do the bright colorful ads they contain. And there are any number of websites archiving film, TV and radio ads, from the Internet Archive on down. But an agency called Element Six Media is creating ads that really are ephemeral -- as much so as melting snow and drifting sand. It may not be art, exactly, but it sure is arresting. And if the point of advertising is to get you to look, mission accomplished. (Via
Inhabitat
.)
Posted: 30 Mar 2010 09:58 AM PDT
[Link via Laughing Squid]


Gay plus Jesus plus Texas equals clusterfrack
Posted: 30 Mar 2010 09:58 AM PDT
"It's reimagining of the story of Jesus Christ (referred to as Joshua because his mother's husband, Joseph, thinks the name Jesus 'sounds like a Mexican') and his disciples from childhood to crucifixion. The twist: They are all gay men, two of whom are married in a ceremony performed by Joshua -- heralded as the 'King of Queers' before he is crucified." Shocker:
A student play about a gay Christ is not going over well with school administrators in Texas
.
(thanks, Antinous)
Life imitating "The Life of Brian"
Posted: 30 Mar 2010 08:16 AM PDT
San Francisco-based food activist Raj Patel appears on the Colbert Report to promote his new book and accidentally fulfills the messianic prophecies of an obscure religious group. Now, hundreds of followers of Share International refuse to believe he's not the chosen one who will save the world. Patel's parents respond by purchasing "He's not the messiah, he's a very naughty boy" T-shirts. (Via Lauren Beukes)
You are subscribed to email updates from Boing Boing
To stop receiving these emails, you may unsubscribe now.
Email delivery powered by Google
Google Inc., 20 West Kinzie, Chicago IL USA 60610